[ad_1]

The internet is calling out their cats for the assortment of collections they've accrued, which range from everything from predictable items to the downright surprising.
Cats have been known to hoard and steal items, which is now a major topic of discussion online. The now-viral Twitter thread, started by user @michaelscat2, or Michael's Cat, has been liked 118,900 times with 13,100 retweets and numerous comments. The Twitter user shared a picture of a cat sitting in front of a window with its mouth half-open. Beside the cat were a number of rocks all spread out along a windowsill.
"She likes to collect rocks," the image reads. The Twitter user wrote in the post, "Found on Pinterest. Does your cat have any collections?"
According to The Healthy Pet Club, cats stealing items is a common behavior that has a number of reasons behind it. The cat could be bored and looking for entertainment or a way to play, or they could even be trying to seek attention from their owners. Another reason could be because of the cat's natural hunting instinct, and they could be using the items as a simulation for prey. However, they could also just be hungry if they are stealing food.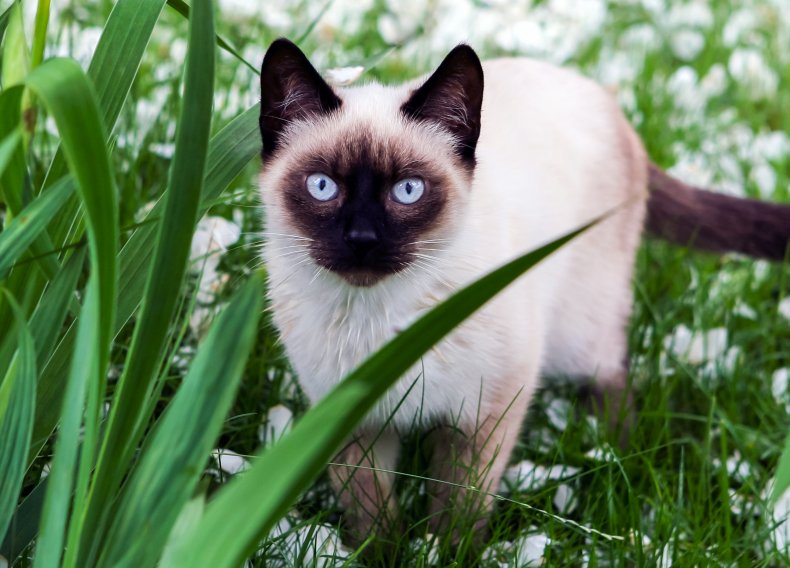 Many people weighed in with information about their cats' collections, and some even included pictures to go along with the post. One Twitter user revealed one of their cats is "obsessed" with milk tabs that come on some products.
"We find them everywhere in our house because he plays with them," they said. "Idk if these only exist in Germany, haha. It was very hard to find a picture." They included an image of a tab half-removed from a carton of milk as well.
Another Twitter user revealed their cat named Kitt collects hair ties, and included an image of the furry feline. "If I don't hide them in drawers he can't open, Kitt will grab them from anywhere – my bed, my shelves, the floor – and carry them and bat them around before dropping them in his water bowl," they said. "I have no idea why he thinks they belong there, but…"
Some cats collect leaves, and one such cat, who has a black and white coat with white paws, is both an indoor and outdoor cat. "She really likes to collect leaves and hide them in the cabinets," the cat's owner said.
Another white cat, who was spread out on its back exposing its belly for a picture, collects an item used for one specific purpose. "My puzzle pieces, and if he's in a good mood he gives them back to me," a Twitter user said.
While one user shared an image of their two cats, one of which is the collector, seated near a number of items that had been hoarded under the couch.
"Anything that I love, he reclaimed," they wrote. "Hair ties, markers, bras, and coffee for some reason. I had the fabric of my sofa changed, and this is what they had stored underneath. The one on the left is the culprit, his brother on the right [has] the 'had nothing to do with it' face."
Another user's Calico cat hoards their scrunchies in "an undisclosed location," adding, "I have no idea where they are right now. The one collection she 'kindly shares' with me, though, are the cockroaches she's caught."
A number of small items seem to be favored by felines in the thread. One cat steals an item usually found in wallets. "Omg, I have a cat that constantly steals coins," their owner said. "Anything on my desk is fair game for the little klepto."
A Twitter user's previous kitty liked feathers, who would "find one outside and would prance around with it, showing it off. We still have so many feathers in the house from him."
One furry brown and white cat, who stared up at the camera for a picture, was sitting by a small stuffed animal, apparently something he likes to gather.
"He collects my daughter's stuffies and puts them in my bed or in my dirty clothes or in his water bowl," a user wrote. "He talks to them in the middle of the night too."
Another cat collected socks dropped on the floor in the closet or ones found under the bed. He would build "a little bed with them, on which he slept on. He also added his toy mice to the collection."
Newsweek reached out to Twitter user @michaelscat2 for comment.
This isn't the only viral moment involving cats. A sleeping cat in a man's robe delighted the internet in March. Meanwhile, a cat cuddling her kittens earlier this month tugged at people's heartstrings. In addition, a cat raced home after hearing her kitten cry.


[ad_2]

Source link