The turn of the year is a perfect time for summaries, planning future activities, and market research. It is no different in the automotive industry, which is subject to dynamic changes. Their direction is obviously determined by software development.  It seems that in the next few years this will be a crucial competence of each vehicle manufacturer. Maybe equally as important as producing the engine!
If you listen to CARIAD, Stellantis, Tesla, Audi, and others, you will learn that each and every one of these companies believes that the future of the automotive industry is software-centric. As the name says, if you want to achieve that, you have to learn how to build software and this may be a bumpy road for most of the OEM's. How to align a legacy, waterfall approach of building cars with the lean, agile software development paradigms, or modern, disruptive cloud and AI technologies? CARIAD already seems to know, Stellantis says they have a plan, Porsche is at full speed, and Tesla was born that way. Exciting times. And it will only get more interesting!
Buzzword of the year: OTA or EV? Both!
If you are a car geek and digitalization fan, you probably know what were the hottest car premieres in 2021. But do you know what all these cars have in common?
Audi e-Tron GT
Ford Mustang Mach-E
Mercedes EQS
BMW iX
Rivian R1T
Lucid Air
All of them are electric – because electricity is here to stay! They are all smartphones on wheels because software is the new V8! And all of them take advantage of the hottest trend in connectivity: OTA (over-the-air updates), which means the possibility of adding new features through updates without visiting the dealership. Straight from the cloud. It, at the same time, builds a highway for the creation of new revenue streams and a completely new level of customer care provided by vehicle manufacturers.
It means all the predictions and all the trends we have seen in recent years are here to stay, but now all OEMs are on board, and the trends will play a much more significant role.
Let's take a look at those that we think are worth highlighting as the automotive trends for 2022 and above.
What should we look for next year and above?
Change 1: Electrification is gaining power 
There is no escape from electricity – mainly due to the challenges facing zero emissions. All data indicate that 2021 will end up as the year with the highest sales of these vehicles (EV and PHEV combined), reaching 6.4 million units worldwide [EV Volumes]. This would be a 98% increase compared to the previous year. It is likely that the EV sector will face changes in the next 10 years, comparable to what happened in the internal combustion engine vehicles during the first 100 years of development!
What influences (and will continue to influence) the increasing consumer interest in electrics? There are numerous factors. Let's list the most significant ones.
The spread of other EVs
Urban scooters, bicycles, and electric mopeds are no longer a surprise and are increasingly becoming the dominant mode of transport in congested city centers. With the spread of the shared mobility trend, which makes it easy to rent out vehicles for a flexible period of time, consumers are gaining confidence in them and begin to notice the advantages of this solution, which is reflected in their future purchasing decisions when it comes to new cars.
New legislation on EVs
The UK, France, Norway, and Germany are implementing laws to ban the sale of new petrol cars by 2025. California wants to reach this goal in 2035 and replace its entire fleet of diesel buses with electric ones as early as 2029. Changes in legislation inevitably trigger changes in vehicle production and affect other sectors. For instance, the construction industry, which will be obliged to equip buildings with sockets and an electrical grid that will allow the charging of electrics in their own homes, which is already done in the USA.
Increased range of EV
The range of electric vehicles has always been a challenge compared to petrol vehicles. The problem was not just the short life of the battery itself, but also the limited network of available chargers. With the development of new technologies for extracting minerals necessary for making batteries and ways of power storage, these factors will gradually become marginalized.
Tesla announces it is phasing out the use of cobalt in its batteries to produce a $25,000 electric vehicle in three years – although it is already leading the way in new car sales in Europe.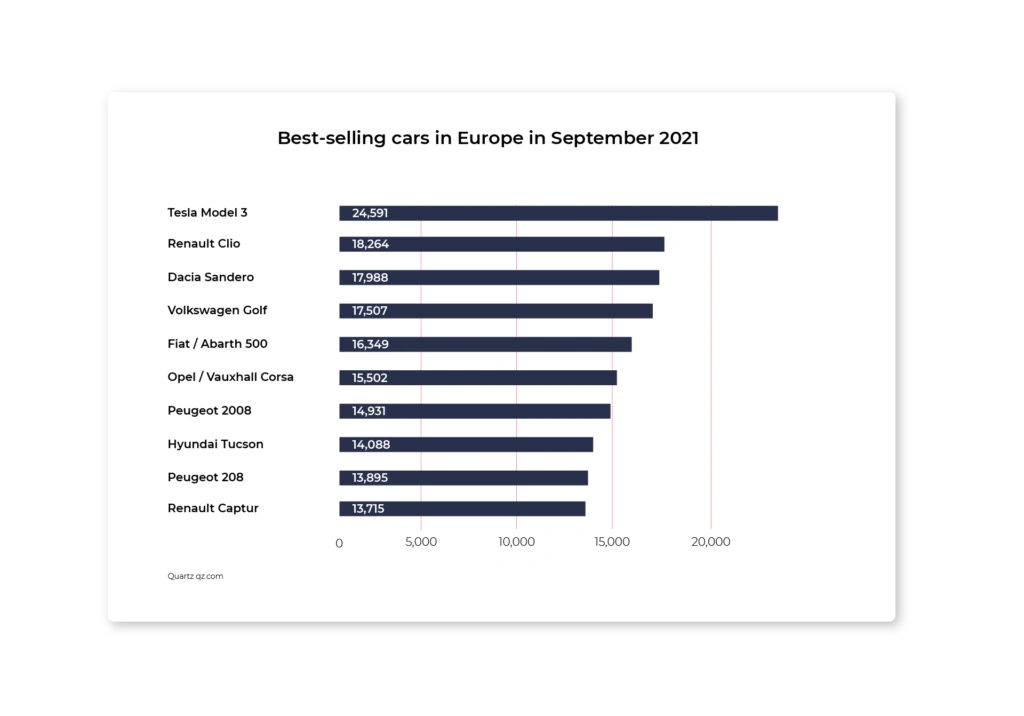 Lilac Solutions, a company supported by Bill Gates' Breakthrough Energy Ventures, is implementing technology that allows lithium to be extracted without draining groundwater. 
Alternatives to lithium-ion battery technology are emerging, such as the solid-state batteries being developed by Toyota. 
There are also growing claims that it is not batteries but supercapacitors that will power electric vehicles. Instead of storing energy in chemical form, like a battery, they hold it in an electric field. This makes them more durable and ensures a longer life cycle.
In 2019, there were 175,000 public EV chargers in Europe. By 2025, it is estimated that this number will reach 1.3 million, and in 2030 it will already be 2.9 million [ EV volumes]. With the development of connected car technology, this will enable more charging points to be found efficiently and without hassle, and will substantially extend the possibility of a seamless journey.
Change 2: Seamless connectivity and on-board services 
OK, 5G is the thing! In China all their biggest cities already have 5G coverage, now the USA and Europe must and will follow. 5G takes internet connectivity to another level. This is and will be a complete game-changer in several areas:
V2X for building a mesh of connected vehicles, road infrastructure and third party devices.
Autonomous driving applications with hybrid cloud and edge systems, requiring very low latency.
Real-time telematics for tracking the status and location of vehicles almost in real-time, which will make driving safer and more comfortable, save time, reduce vehicle operating costs or allow the purchase of an insurance policy tailored to the driver's driving style. 
You can read more on this topic here and here.
Change 3: Better UX/UI solutions and use of augmented reality
Cockpits of modern vehicles are filled with screens. Pushing all controls, buttons, and knobs to touchscreens decreases production costs and makes the vehicle look more premium. At the same time, customers report that the vehicle interfaces are increasingly harder to operate. Also, the old, slow, or stuttering infotainment makes the whole look & feel of the vehicle worse. 
This forces manufacturers to put more effort into the UI/UX design, as well as improving other, safer ways to interact with vehicles. A great example of this are solutions already familiar to consumers in other market sectors – voice assistants and gesture recognition, as well as the most developing technology in this field, i.e. augmented reality. 
The latter is increasingly used in vehicles in the form of a Heads-Up Display on the windshield. The following applications can be listed in the vehicles entering the market:
Intelligent Terrain Mapping – which assists the driver whilst driving by displaying directions, a road map and information about upcoming landmarks.
Automated Parking Assistance – which, by means of additional lines and indicators on the camera, can make parking or difficult maneuvers easier.
Augmented Marketing – combining AG with sales and entertainment – not only in the form of offers displayed on the windshield, but also in the course of selling vehicles and advertising them, when you can feel the driving experience without having direct contact with the vehicle.
Intuitive Road Safety – warning of dangerous driving, pedestrians in lanes, or drivers drifting into the other lane. 
You can read more on this topic here
Change 4: Increased focus on cybersecurity and data privacy 
The connected car operates in a V2X ecosystem consisting of data networks, road infrastructure, other vehicles, and third-party applications. In such an environment, the threat level of cyberattacks is at a very high level. Hence, in the coming years, those involved in the automotive industry must make the utmost efforts to protect not only consumers' sensitive data but also their lives and health. 
That cyber attacks will occur is more than certain. The industry's task is to adapt current technology and regulations so that potential threats are minimized at the point a vehicle leaves the factory. 
Cyber security should be at the heart of every SVD vehicle leaving the factory. Especially since we're not just talking about the sensors that will be programmed but entire production chains, which can also become potential targets for attack. 
In order to prevent such activities, as of 2018, more than 80 organizations from around the world, have created the ISO/SAE 21434: "Road vehicles – Cybersecurity engineering" standard, which encompasses a set of guidelines for securing vehicle design, manufacturing, maintenance and decommissioning processes. These guidelines define cybersecurity processes for different phases of vehicle development, specifically:
addressing and mitigating process vulnerabilities;
identifying unsecured ECU (engine control unit) connection protocols;
and unsecure aftermarket products and services.
The software industry, however, which supplies software to OEMs, must be prepared for the European Commission's regulations on AI-related rules. The regulations are expected to cover:
the potential risks that artificial intelligence applications can create;
requirements for AI systems for high-risk applications;
specific responsibilities of artificial intelligence users and high-risk application providers;
proposals for compliance evaluation before marketing the AI system;
governance structure for AI applications at European and national level.
In the interim period, the regulation may be effective in the second half of 2022. The second half of 2024 is the earliest period of application of the regulation to AI application operators.
Change 5: Expanding software development capabilities
The transition from a vehicle company to a company dealing with software on four wheels is a complex and challenging process. Such a transformation inevitably awaits all automotive companies in the coming years. It is worth noting a few factors that are critical to the success of this endeavor. 
Companies need to build their internal software development structures, become attractive employers for software engineers and gain great partnerships in the software development world.
Increased focus on reliable internet connectivity for all produced vehicles, as well as cloud connected car systems.
Work on regulatory compliance in terms of GDPR, data collected from vehicles and cybersecurity.
Constant growth of software development teams and departments, as well as new partnerships regarding software, cloud and AI.
Change – the only certain thing in the automotive industry

Changes related to the reduction of CO2, the development of the Internet of Things, or automation will affect most industries in the coming years. However, the automotive sector, where technological, social, ecological, and consumer trends meet, may become a litmus test for the upcoming developments.
Just as new technologies took the telecommunications or smart building industry by storm a few years ago, they will now begin to change the way we use vehicles. Can we set a date when we can say with a high degree of certainty: this year will be the year of the connected car? Unlikely.
Just as the marketing specs failed, who claimed each year: that this year will definitely be the year of mobile. 
These changes grow exponentially, remaining unnoticed for a long time, but suddenly we realize that they are already with us. We live in a world where they have already become commonplace and everyone benefits from them. Companies working at the intersection of the automotive industry should not let this moment slip by. There comes a time when the car will become our second phone. 
Do you need support from a team of experts in cloud computing and AI solutions? Would you like to talk to experts specializing in software implementations in the automotive industry? The Grape Up team is at your disposal.